Aviva personal online investment service (OIS)
Company
Aviva
Project keywords
Fund investment | Customer journey mapping | Web app
Project timeline
02/2019 - 12/2019
My role
UX design
My responsibilities
Journey map | User flow | Wireframe | Prototype
Context
The Aviva Online Investment Service is a B2C investment platform where customers can buy Pensions, S&S ISAs and Investments without advice. It offers 3 investment propositions which are Readymade funds based on 4 levels of risk mostly for the least experienced customers, around 70 Expert's selected funds and an open choice of around 2000 funds for self selection mostly for more experienced customers. The platform launched in 2015, the current conversion rate for new customers is only 5%. There is 76% drop off through fund selection and anther 55% drop off through completing application.
This project has 3 design phases:
1. Pension upgrade:
There are over 200 millions of private pension customers are on various platforms. The business wants to migrate those customers to OIS pension product to allow them access a wider range of retirement options. Currently the migration is done manually, my role was to design a simple online journey which also allows the customers to easily consolidate other pension pots to the same product.
2. New business journey
For new OIS customers, my role was to optimise the current OIS account opening journey and improve the 25% conversion rate.
3. Investment research hub
Investment research hub is where the customers can find information about fund details, fees and charges, performance figures, risk ratings, investment ideas, up-to-date news & views on investments etc. It will enable customers to compare different investments, help them in making their investment decisions as well as forming opinions about investing. Currently the hub only provides 3 core investment propositions which is lack of supporting null to help customers making decisions.
Where I started and what were the challenges
I started by reviewing the current journey and addressing the problems
• This journey is for customers with all different levels of investment experience. Currently they will have to do their investment research outside the journey until we have investment hub built. From tracking data we know that 60% of new customers chose Readymade funds when opening account, so their needs is prioritised.
• Clicking apply pension takes the customer straight to fund selection, which is against to user mental model.
• The end to end journey goes through 3 platforms with inconsistent design patterns.
• The journey is very text heavy. The legal content appears multiple times and repeatedly.
• It's not clear how the fees and charges work.
• In the basket design, it's not clear that the customer has to define how much of investment they want to put on each selected fund, otherwise the investment will be let in cash
• It's not clear that transfer in a pension is part of the same journey, some customers think they have to open an account first before transferring a pension pot
Challenge
During the detailed design phase, the stakeholders gave a lot of useful input as well as design suggestions such as introducing quick link to jump to the basket etc.
I suggested to run a user testing to get user's input on the designs before rush into build, due to limited budget, the stakeholders agreed to do an internal gorilla test. I worked with the user researcher to put together Axure prototype and participated the testing sessions. Amended detailed design based on the insights below.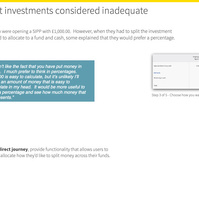 Design phase 3 -
Investment research
hub
When I started this piece of work, I had a brief of redesigning the investment options page on the left where the customers can find out information about Aviva's investment choices before apply for a product. The customers who will come and visit this page will have very different level of experience in investment and the requirement of information needed are going to be very different too. Therefore, I decided to create a few personas to cover the key use cases and organise a workshop with my stakeholders to gather more detailed requirements with the idea in mind that the outcome will be much beyond the initial scope.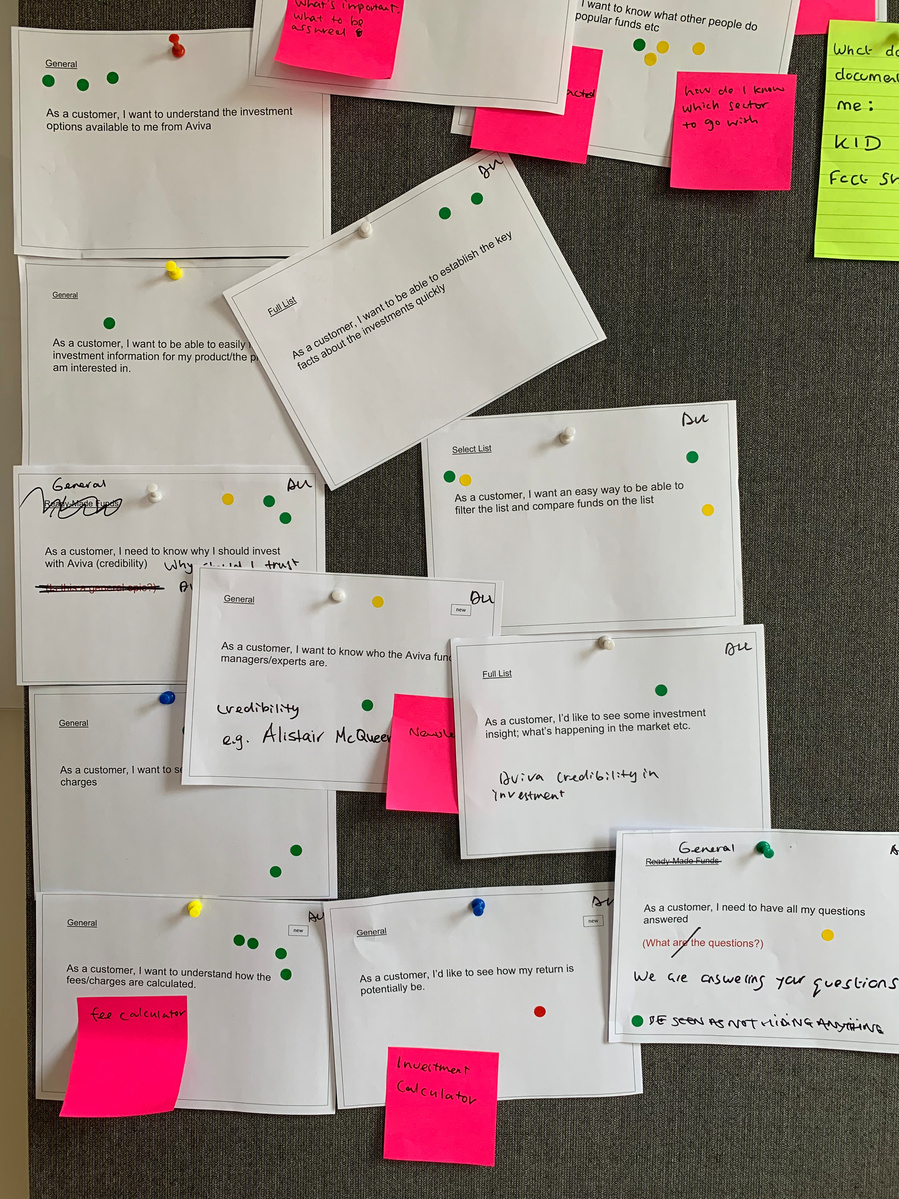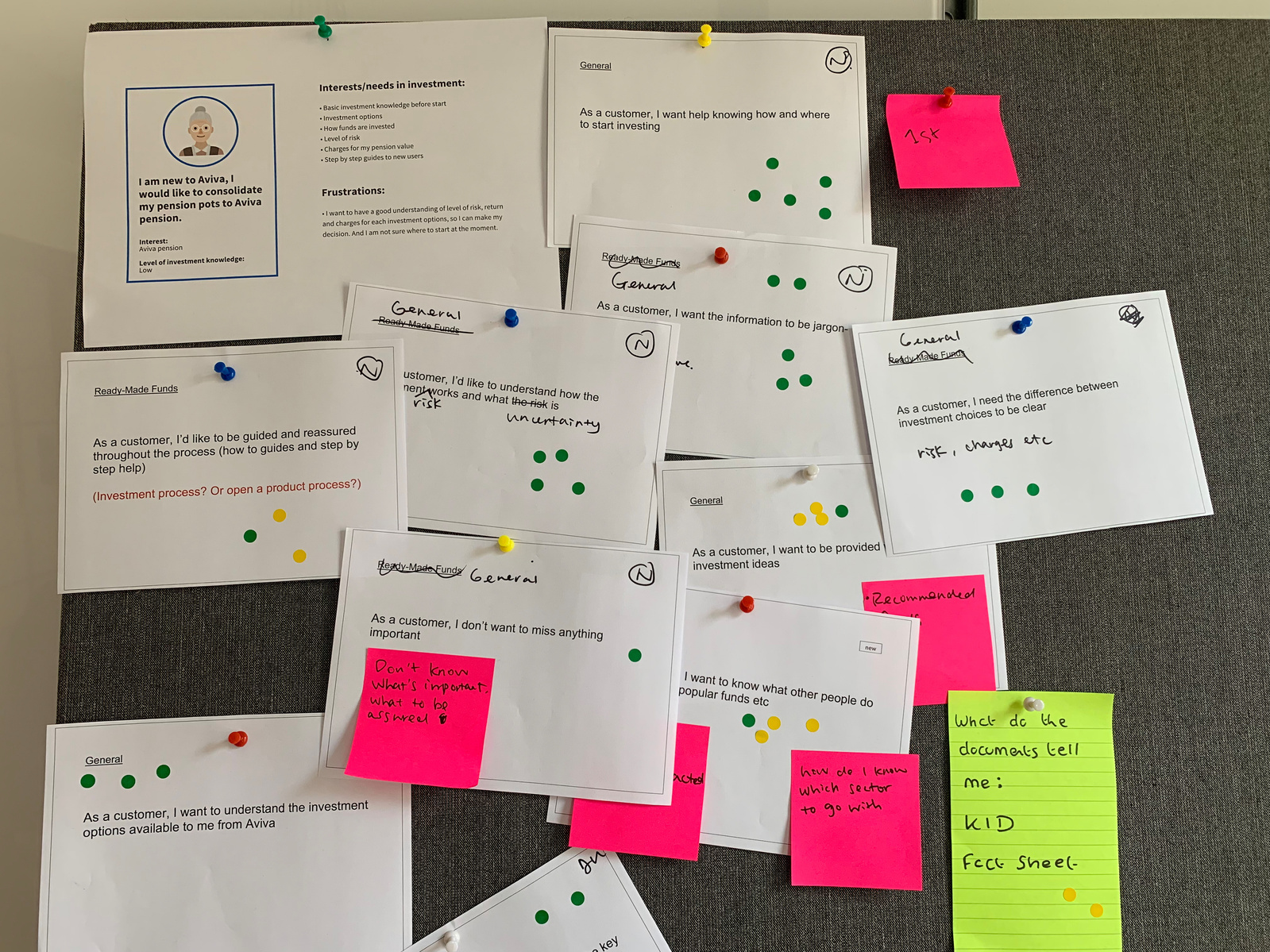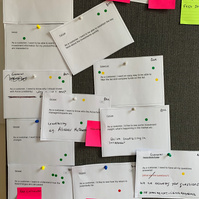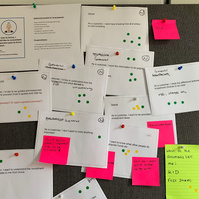 Result
Pension upgrade MVP campaign issued on 15th November to 1,500 customers that were identified may benefit from upgrading to OIS. Within two weeks, there were 22 application went through and £1.53m carried over.
New business journey was still in build when I finished my contract.