A portal for the users to manage their home energy spending
Company
E.ON
Project keywords
AEM | Web app | Mobile first
Project timeline
11/2017 - 02/2018
My role
Lead UX design
My responsibilities
Requirement gathering | User flow | Wireframe | Specification
Context
Digital attacker is the new energy platform that focused on creating a kind customer experience and enabling E.ON to compete in the market. E.ON aims to create a platform that has simple joining experience, no paper work ever in the process, users always know how much they pay and they don't ever need to wait on the phone any more, also social and community driven.
Process
When I joined this project, a set of personas were already created based on the information provided and workshop exercise with E.ON, followed by brainstorm sessions for the core journeys to map out initial ideas.
Design
With the core principles 'we exceed your expectations', 'a highly personalised experience' and 'we look after you' in mind, we started wireframing concepts for core flows. I worked with visual designers created iJoin, dashboard, meter read submission flows design, at the same time oversaw the design of user account, part of iPay flows.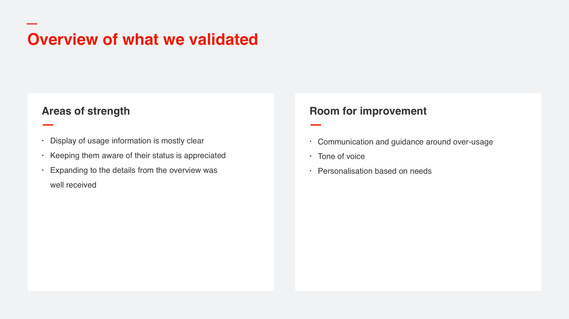 User insight
A set of user testing sessions were conducted with E.ON's target customers matching our key personas to cover their main needs and challenges. I worked with user research conducted face-to-face and remote testing sessions, taking the participants through medium fidelity prototypes of the main journeys
.
Result
With a team of 4-6 UX and visual designers, we completed the MVP scope of the mobile first designs within 4 month time. The key challenges of this project were dealing with the aubimuratiy of requirements and the constant changing of scope.